Thread Title
WHAT DID YOUR CAR RUN???
10-27-2009, 03:38 PM
Platinum Member

Join Date: Feb 2009

Location: richmond va

Posts: 1,529
WHAT DID YOUR CAR RUN???
---
Hey guys, lets start a cool thread here everyone is always asking whats the best set up for a prelude weather its 3rd, 4th or 5th gen and theres always new threads. lets show others what we have (year, engine, bolt-ons, and anything thats done to it thats not factory) ...

then show what you have ran frm just typing what you got at the track (including reaction time R/T, trap speed, and any other things you would like to add.) or what you have raced like a civic W/ his bolt ons so we can see what our oppenents are.

also in the end you can add comments like, spun out the whole then half through 2nd then pulled through for the win!! or bad day, car wasnt running good, etc.

95 prelude S
f22a1
generic intake
2 1/2 inch custom magnaflow cat-back
ngk plugs
17 inch falken street tires @ 22psi

1/4 mile............16.195
R/t................... .495
trap speed.........87 m/h

Comments- car was over heating, and got an ok reaction time but spun all through first then it finally decided to hook up after the 60' =/


come on guys!! lets keep this going!!!!
__________________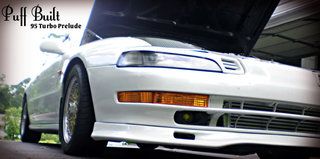 1995 Honda Prelude S "LuLu" (in the making) :)
MY JOURNEY TO 600WHP 95 TURBO PRELUDE BUILD THREAD vvvvvvvvvCLICK LINK BELOWvvvvvv
http://www.preludezone.com/4th-gen-h...refurbish.html
Cars are like Girls, you want every pretty one you see, But in the end you only Love Yours...
---
Last edited by HpreludeH; 10-27-2009 at

03:43 PM

. Reason: forgot some things
10-27-2009, 03:59 PM
little green ghouls, buddy!!

Join Date: Apr 2006

Location: kitten mittens

Posts: 17,844
Re: WHAT DID YOUR CAR RUN???
---
~Official Prelude 1/4 Mile thread
__________________

1995 Honda Prelude SE Turbo; 250whp, 275wtq @ 10psi Soldddd!!!
2000 Acura TL; DD
2005 Stage2.5+ Subaru WRB STi : RzKar!
Ivey Tuned - Advan - Cobb - Rallispec - CP - Perrin - ACT - KillerB - Carillo - TurboXS - Defi - Innovate - Walbro - DeatschWerks - Feal - H&R - Alpine - Infiniti - Curt
2001 Kawasaki STX1100 D.I. - Sold!
2007 Sea-Doo RXT 215; ET 127 +3 S/C impeller, DIY 3" intake, DIY resonator delete/free flow exhaust, DIY oil catch can, Rule 500gph bilge pump
Currently Active Users Viewing This Thread: 1

(0 members and 1 guests)
All times are GMT -4. The time now is
01:01 AM
.