| | |
| --- | --- |
| $99 half shaft... FAIL!!!! | |
Thread Title
$99 half shaft... FAIL!!!!
05-14-2009, 04:11 AM
Bronze Member

Join Date: Feb 2008

Location: idaho

Posts: 155
$99 half shaft... FAIL!!!!
---
ok.. so when i did my JDM swap and Auto to 5spd swap i was told i didn't need a new half-shaft/intermediate shaft...
wrong advice.
so i look around and every shop on the web is selling this shaft for 99 bucks.. just went with the best shipping deal i could find.
ok.. so she looks nice when i get it.. but yeah.. 6000 miles down the road.. on a road trip between seattle and north idaho.. i get this wierd vibration in 5th gear.. i'm like what the duce?
i pull over.. pop my hood.. rock the throttle cable a bit.. no odd sound no vibration.. i'm confused.
I get back on the road and there it is.. 5th gear..
so i get on my phone find an oil shop open on a sunday.. right like any are going to be open.. but yes i find one about 20 miles away.
I get there.. i'm spewing tranny fluid and because my half shaft looks like this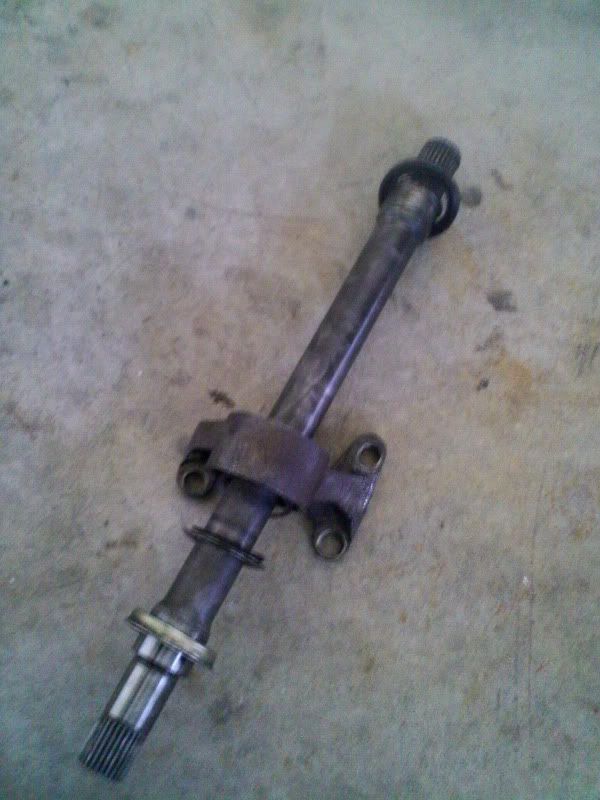 WTF!!!!
the bearing is just gone.. the damn shaft is flopping around and i can do nothing about it.. 4th gear seamed to handle it well.. i don't know if it is because it is 1 to 1 and i just got lucky but yeah that is my magical answer.
So i get to Coeur d'Alene.. my destination monday morning order the part from honda this time.. around 400 bones.. install it and she's running like a champ.. for now... lol..
look in the AutoShow off section for the trip back. LOL! I LOVE MY CAR!
05-14-2009, 10:30 AM
Junior Member

Join Date: Apr 2009

Location: N.y

Posts: 68
Re: $99 half shaft... FAIL!!!!
---
Sounds pretty fortunate despite that trouble.

One of my biggest fears is serious car trouble more than 100 miles from home.

I get basically free service at 4 shops in my area and have known the people for about a decade each. I also know 2 people willing to trailer a car home for a lot less than a normal tow. Even the slightest possibility of paying for hourly labor with strangers and/or a long expensive tow home always messes with my head on long trips.

Knowing certain people has saved me so much time, money and headache.
__________________
I am "above the influence"... of retarded ad campaigns.
Currently Active Users Viewing This Thread: 1

(0 members and 1 guests)
Posting Rules

You may not post new threads

You may not post replies

You may not post attachments

You may not edit your posts

---

HTML code is Off

---
All times are GMT -4. The time now is
11:27 AM
.