| | |
| --- | --- |
| :::Tundra:::1993 Honda Prelude Si 4WS | |
Thread Title
:::Tundra:::1993 Honda Prelude Si 4WS
08-14-2015, 02:58 PM
I'm New

Join Date: Jun 2013

Posts: 10
:::Tundra:::1993 Honda Prelude Si 4WS
---
Here is my 1993 Honda Prelude Si 4WS. Her name is Eurydice, Eura for short (:
Pics are from early this spring before my last deployment. Haven't changed anything on the exterior since then aside from the license plate (off for pics, required front plate for AK cars
).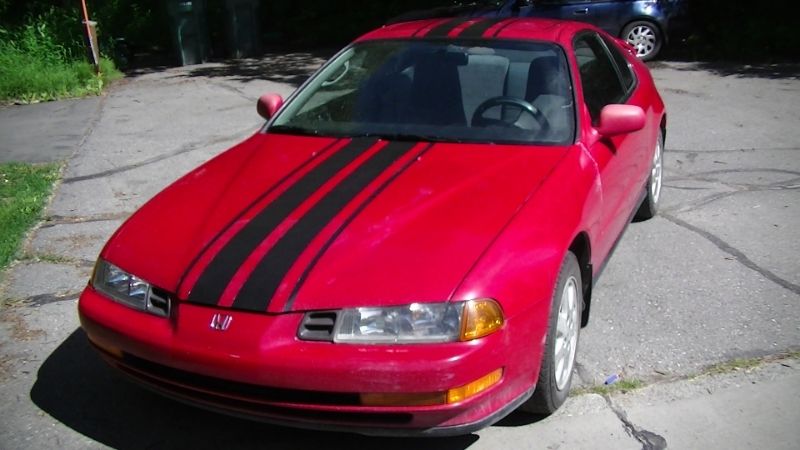 Yes, she's got stripes. Plasti-dipped, custom stripes by yours truly.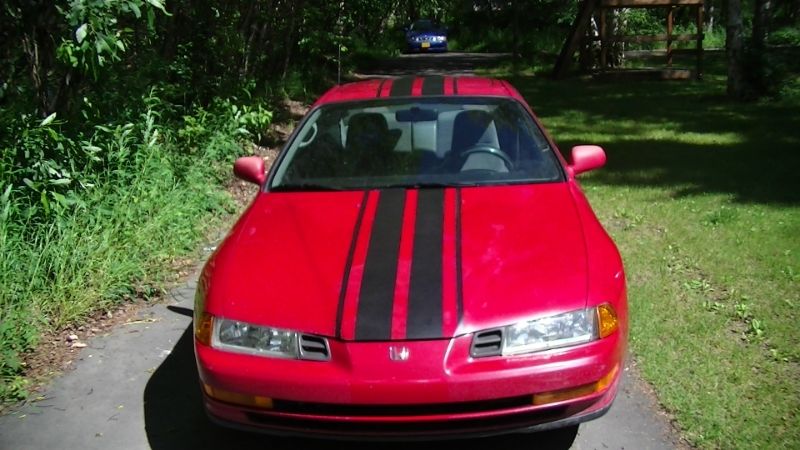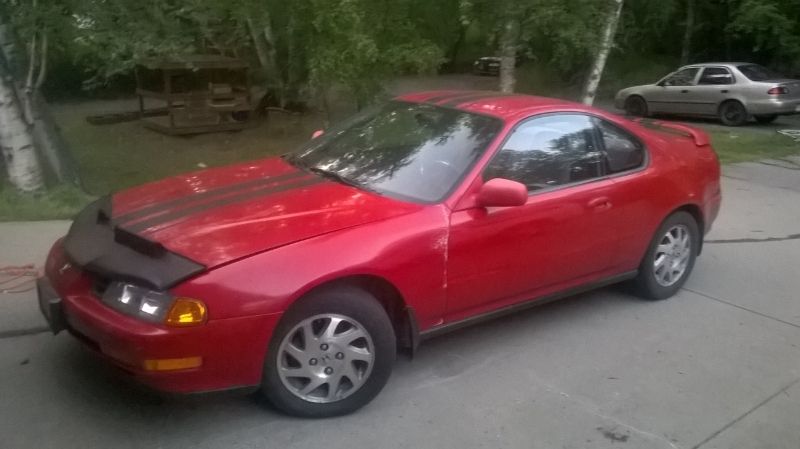 She is 4WS, but in this picture I had her wheels turned after I turned the car off so the back wheels stayed put...
Ignore the AEM short ram...came with a parts car but felt a dramatic loss in power with it so put the stock intake back in.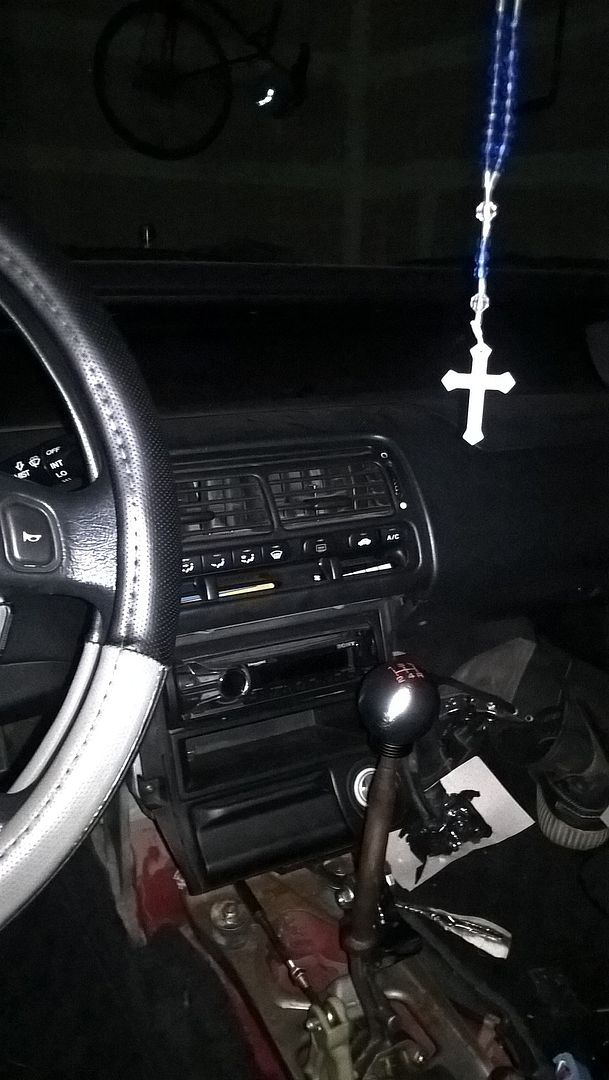 Here's my current shifter setup, stick is from an accord because I had a 5-speed swap done but the parts car's shifter assembly was jacked up. I like the height of it, and the throw is smooth and short
Interior
Swapped original black seats/trim replaced with striped gray interior from a 95 Si lude
Accord shifter with short shift adapter
VMS Racing Type-R gunmetal shift knob
Exterior
Pretty much stock
Extremely sun damaged Milano Red
Plasti-dipped custom racing stripes
Performance/Engine Bay
H23a1 2.3 DOHC with 130K miles
DC ceramic headers
M2S4 5-speed swap
Neuspeed front strut bar
Wheels/Suspension
Stock blade wheels
Stock suspension
Street Warriors ZZ23 drilled/slotted rotors and pads
I.C.E
Sony aftermarket radio
Future Mods
Cruise control delete (doesn't work so why not? lol)
Bodywork
Color change, planning on wrapping in yellow vinyl
Painting calipers red
Studded winter tires, because Alaska
Rims (next summer probably)
Performance tires
Way Future Mods
Ultimately want to go F/I on my spare, young H23.
08-14-2015, 03:55 PM
Supreme Member

Join Date: Aug 2012

Location: could you repeat the question?

Posts: 11,121
Re: :::Tundra:::1993 Honda Prelude Si 4WS
---
RIGHT ON!!!!
__________________
Quote:
Originally Posted by
ogsmakdade
welcome to site Carl
...is a golden car fax kinda like a golden ticket? Sure hope willy wonka didn't put any snozberries in your motor.
Quote:
Originally Posted by
elspectro29
Only seen the first one, 15 years ago in theaters. Plan on keeping it that way. Get off my lawn.
Quote:
Originally Posted by
Lindso
I remember my first thread, asking what a noise was when I got going 110mph.
Pretty much got flamed for driving like a jackass and was told to slow down. And I'll be damned, slowing down fixed it.
God's Not Dead
Currently Active Users Viewing This Thread: 1

(0 members and 1 guests)
Posting Rules

You may not post new threads

You may not post replies

You may not post attachments

You may not edit your posts

---

HTML code is Off

---
All times are GMT -4. The time now is
05:34 PM
.