Thread Title
Wheel Shimmy on Braking
10-22-2009, 11:45 AM
Junior Member

Join Date: Oct 2009

Location: Whitby, Ontario

Posts: 95
Wheel Shimmy on Braking
---
Hey,

I need to get your advice on what is wrong. On harder braking, my front passenger side wheel moves back and forward (side to side) like there is excessive play in the steering linkage but it has been checked and the linkage is fine. Is the cv joint to blame??

Today the abs light was coming on and this wheel shimmyed back and forth 3 inches on a hard brake test. This is not duplicated on the other wheel, which has a new cv joint. I am not sure how old the passenger side cv is, but i is clicking on turns which is an indicator that it needs to be replaced.

What do you guys think?
__________________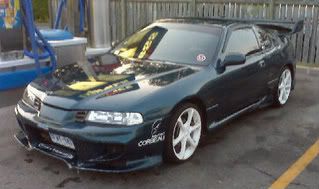 1993 Prelude 2.2 v-tec h22a1, Eibach adjustable coilovers, 18" rims wrapped in Falcon 35 series tires, Invader body kit, polished and ported head, catback, wrapped headers, coldair, short shifter, Mugen CF 320mm steering wheel, strut bar, double deck wing, crossdrilled rotors, etc. JDM LSD TRANS. Carbon fibre hood sprayed with black Candy clearcoat...sic!!!!!
10-22-2009, 12:06 PM
little green ghouls, buddy!!

Join Date: Apr 2006

Location: kitten mittens

Posts: 17,844
Re: Wheel Shimmy on Braking
---
your cv is def on its way out, as you know by the clicking.

not to ask the obvious, but... are your lug nuts tight?


also, jack the front pass side up, than grab the wheel @ 3 and 9 o'clock position, and rock it back and forth, and in and out. then do the same @ 12 and 6 o'clock. you should be able to isolate where the excessive play is.
__________________

1995 Honda Prelude SE Turbo; 250whp, 275wtq @ 10psi Soldddd!!!
2000 Acura TL; DD
2005 Stage2.5+ Subaru WRB STi : RzKar!
Ivey Tuned - Advan - Cobb - Rallispec - CP - Perrin - ACT - KillerB - Carillo - TurboXS - Defi - Innovate - Walbro - DeatschWerks - Feal - H&R - Alpine - Infiniti - Curt
2001 Kawasaki STX1100 D.I. - Sold!
2007 Sea-Doo RXT 215; ET 127 +3 S/C impeller, DIY 3" intake, DIY resonator delete/free flow exhaust, DIY oil catch can, Rule 500gph bilge pump
Currently Active Users Viewing This Thread: 1

(0 members and 1 guests)
Posting Rules

You may not post new threads

You may not post replies

You may not post attachments

You may not edit your posts

---

HTML code is Off

---
All times are GMT -4. The time now is
05:48 AM
.