Thread Title
How to fix a bumper dent
09-04-2008, 10:32 AM
Gold Member

Join Date: Sep 2007

Location: Jacksonville, FL

Posts: 874
How to fix a bumper dent
---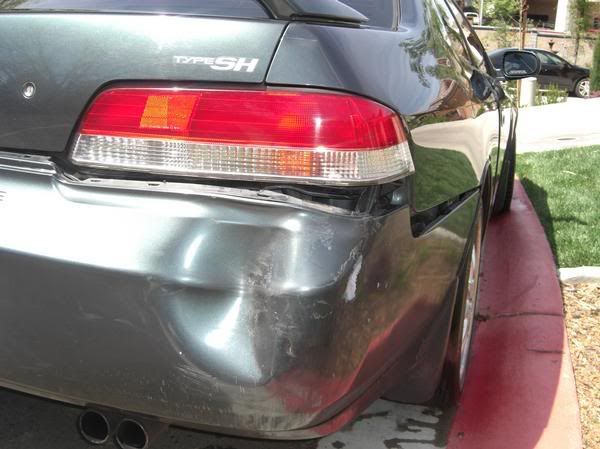 I help this kid with his dent and now im going to write a write up about it
I dont have any pics of doing this but its simple.
What you need-
tools to take off rear bumper
blow dryer
bucket of cold water (the colder the better)
and a sponge
1. Remove your bumper
2. get the blow dryer and turn it on high
3. Go from the in side of the bumper and heat up the dent and around it (watch the painted side because the paint will bubble if it gets 2 hot, but it requires alot of heat so just keep the blow dryer about a hands length away)
4. as the plastic get hot push it out starting on the out side and workng in to the center of the dent
5. when you get every thing where you want it quicly get the sponge wet with the cold water and touch the heater plastic area. It should stay.
Note- the paint could crack moving it back, bubles can be sanded down and if you have to prep the bumper by sanding it down using 320 or higher sand paper and paint it, its alot cheaper to prep your car before painting then having the sop to do it.
Good luck and i hope this helps someone
__________________

White Prelude Bandwagon
09-04-2008, 10:51 AM
Bronze Member

Join Date: Aug 2008

Location: MD

Posts: 145
Re: How to fix a bumper dent
---
Great write up!
Too bad my 3 dents are all on the body/fenders, not the bumpers.
I'm sure this'll help somebody alot though!
__________________
'94 Prelude S
- Tokico Blues w/ lowering springs, Sportstop slotted rotors w/ SS brake lines, AEM short ram intake system.
'05 Jetta GLI
- Currently stock
Link to my failed build.
The Slow Project
New build to follow.
You guys win, I now believe in turbo.
Currently Active Users Viewing This Thread: 1

(0 members and 1 guests)
Posting Rules

You may not post new threads

You may not post replies

You may not post attachments

You may not edit your posts

---

HTML code is Off

---
All times are GMT -4. The time now is
04:56 AM
.