| | |
| --- | --- |
| Good news.. and bad news... | |
Thread Title
Good news.. and bad news...
07-16-2008, 11:43 AM
Platinum Member

Join Date: Jul 2007

Location: Orlando, FL

Posts: 1,342
Good news.. and bad news...
---
Ok lets start with the bad news...
Last night I was driving. Went and picked up a friend and in her parking lot I put my car into reverse and backed into a space because its a pain to back out of there and thats the only way to turn around. So I was sitting in the space in reverse for a second with my foot all the way to the floor on the clutch and the other on the brakes, I was stopped. The car tried to stall. It does the same thing in first gear if I'm at a light or a stop sign or whatever. All of the gears are hard to get into kind of like the synchros are out, but it does it in reverse too and reverse doesnt have a synchro. The car has a lot of clutch chatter when starting from a stop and its really bad to drive at the moment. I discussed this with a couple friends from school since I go to an automotive school and even though I havent had manual transmissions yet it seems I was right on the money. I was thinking something in my clutch is screwed, mainly the pressure plate, possibly a weak return spring, and everyone seemed to have the same idea. So I went on ebay and ordered the XTR stage 2 racing clutch because a friend of mine has it in his 4th gen and swears by the thing.
The good news is... I gutted the back of my car, painted all the metal from red to black, and put back in the rear panels cause I think it looks cleaner and really, they weigh maybe 10 lbs together... soaking wet...
ANDDDD
I got my AFC Neo in the mail!!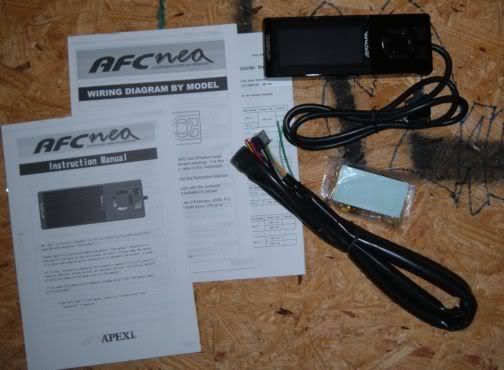 I'm doing my timing belt thursday with a buddy from school because its due and I dont want to start adding power with the neo and snap a belt. But after that task is completed I can put it in, and after the new clutch goes in I can start building her back up!
__________________
1993 BB1-H22A1 VTEC
Member's Ride
Currently Active Users Viewing This Thread: 1

(0 members and 1 guests)
Posting Rules

You may not post new threads

You may not post replies

You may not post attachments

You may not edit your posts

---

HTML code is Off

---
All times are GMT -4. The time now is
06:55 PM
.