Thread Title
Need To Know Something.
03-27-2007, 08:07 PM
Turbo Master

Join Date: Feb 2007

Location: New Orleans

Posts: 756
Need To Know Something.
---
I have a DC Sport Old Polished style Front Strut Bar. I want to put it on my car but i ran into something. It might be nothing but i wanna ask you guys anyway.

First. This Bar came from a h22a 4th gen prelude. I want to see if anybody knows if its the same for the 5th gen. Like the Under Rear bar. Its Exactly the same.

Second. The Brakets that hold to bar. The Bolt pattern seems to line up. It does go on the bolts. But it seems like its not all the way flush. But if i bend it alittle. It will fit just fine.. I hope? Next. The Bracket on the driver side seems to rub on the ABS line alittle. Its no big deal but i wonder if the actual 97-01 does this. If so.. then i dont care.

If you have a 5th gen with a dc strut bar .. can you take a good picture of the brackets. So i can see if i am just being pickie are not.
__________________

03-27-2007, 08:36 PM
Six Figs Club

Join Date: Apr 2006

Location: On My Pocket PC

Posts: 5,039
I don't have the dc strutbar and I'm not sure on the fitment. Now I do know that you don't want a bent strutbar because that sort of defeats the purpose of its functionality. When I installed my type S strutbar I had to bend the bracket that the cruise control unit is connected to. didn't touch the abs what so ever. I hope that helps you out a little Rory...
__________________
03-27-2007, 10:37 PM
Gold Member

Join Date: Apr 2006

Location: Raleigh, NC

Posts: 538
Hey Rory, have you tried placing the brackets on a flat surface such as a counter top to check any wobbling? It may be the brackets are slightly bent or the top of the strut mounts are not perfectly flat (it's just sheet metal) I have the Spoon Sports bar and my drivers side bracket rubs one of the ABS lines too. It's actually starting to wear into the line, I've been meaning to get a round file and put a small relief in the bracket.
__________________
:::1998 NMM 5spd Base:::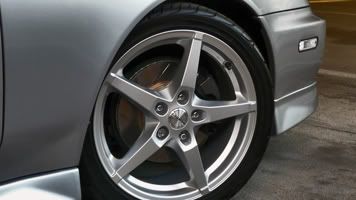 GORBFB -Guilty of Rice by false badging
Currently Active Users Viewing This Thread: 1

(0 members and 1 guests)
Posting Rules

You may not post new threads

You may not post replies

You may not post attachments

You may not edit your posts

---

HTML code is Off

---
All times are GMT -4. The time now is
03:35 AM
.