| | |
| --- | --- |
| 5 speed swap parts list help. | |
Thread Title
5 speed swap parts list help.
01-18-2010, 12:52 PM
Silver Member

Join Date: Sep 2009

Location: jacksonville,fl

Posts: 462
5 speed swap parts list help.
---
ok this may have been covered sometime in this forum, but i just cant seem to find it. so if you could please help me out. either give me links or a list of parts that are needed to make this happen. i have a 98 honda prelude i want to do a 5 speed swap for it but i do not know what exactly i need. i've done my research but i cant find a stupid full parts list. i know it might be easier to go find a wrecked one but many of them are automatic haha. and the ones that are manual only have the transmission no shift cables and all that jazz. so please help. thanks.
__________________
1997 Nordic Mist-Parts car
1998 Nordic Mist-Daily Driver
2000 Black Hawk Pearl-Parts car
2001 Milano Red-Parts car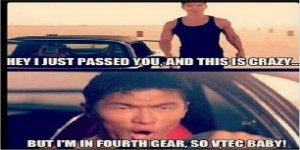 01-18-2010, 10:39 PM
PRELUDEless since 06/14

Join Date: Apr 2006

Location: fatcottonwood, NM

Posts: 2,999
Re: 5 speed swap parts list help.
---
no ****, this took me about 73 seconds of searching to find. you know, PZ isn't the only place you could search. there are plenty of other prelude sites. along with GOOGLE!!!!!
but here you go.
Transmission swap
search better
__________________
μολὼν λαβέ from my cold, dead hands

"Voting FOR someone based on race/skin color is IDENTICAL to voting AGAINST someone based on race/skin color. Judge someone (positively or negatively) based solely on their race, by definition YOU ARE A RACIST... period" -Me
Quote:
Originally Posted by Si Speed
Drew can be a bigger asshole than me, and tell them in 16353 ways that they're a moron for wasting his time, and still not answer them.
Quote:
Originally Posted by ogsmakdade
I am not helping you any more. you're a prick
Currently Active Users Viewing This Thread: 1

(0 members and 1 guests)
Posting Rules

You may not post new threads

You may not post replies

You may not post attachments

You may not edit your posts

---

HTML code is Off

---
All times are GMT -4. The time now is
12:37 PM
.