| | |
| --- | --- |
| 5spd swap and JDM engine swap:update | |
Thread Title
5spd swap and JDM engine swap:update
01-24-2009, 04:11 AM
Bronze Member

Join Date: Feb 2008

Location: idaho

Posts: 155
5spd swap and JDM engine swap:update
---
ok.. so a week ago my gaskets and some random parts came in and i thought that was going to be the weekend that she would be done...
a sweet new dryFlo filter.. and some ENEOS oil
lol
no.. i get into it and realize i need a few more random parts.. so another week goes by of me sitting on my ass waiting.. waiting...
so finally more parts came in yesterday.. and my friend and i start hooking everything up put my head on.. tranny.. everything is looking good..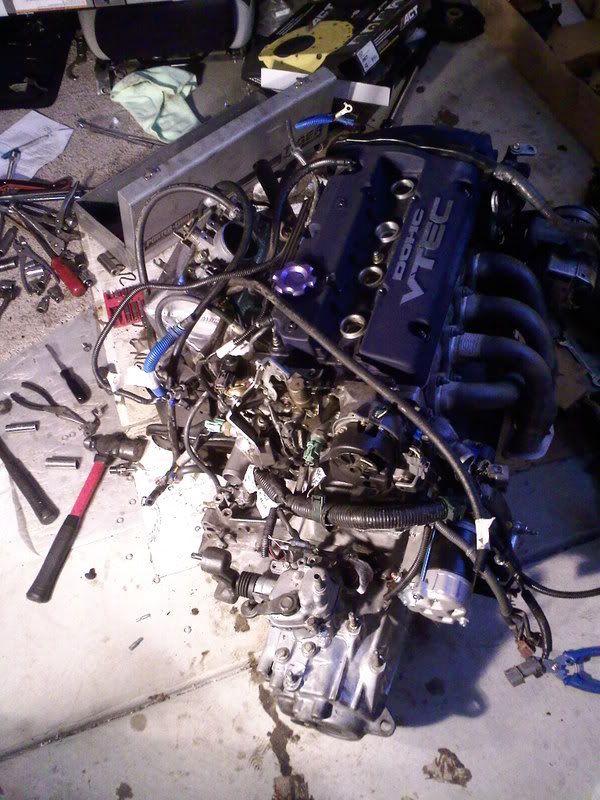 I hook up my new innovative mounts.. get the motor and tranny on the hoist drop her in and hook up the side and rear mounts.. go and grab my tranny side mount and yup... doesn't fit.. I have the tranny mount for 97+ tranny and my tranny is 92-96.. hurray me..
Ok.. so i'm going to fabricate a tranny mount so i can use my innovative mount still.. going to do that monday at a friends machine shop.. so i start to hook up the half-shaft.. and wow it doesn't fit.. if i turn the shaft with the bracket away from the motor yeah it slides in like it is supposed to but when i face the bracket towards the motor its not going anywhere.. so yeah.. it won't fit.. this was at 6 05 pm.. which means every online store just closed for the weekend so i'm going to have to order the half-shaft monday.. pay like 80 bucks for over night shipping because i need this done yesterday and i need to get to settle so i can find a job.. lol.. this build is killing my savings.. my check bank account light is on and i'm about to lose it.
But other than that I've really enjoyed this experience.. i've learned a ton and am no longer afraid of my engine bay.
01-24-2009, 10:36 AM
Banned

Join Date: Aug 2008

Location: NOVA/NJ

Posts: 864
Re: 5spd swap and JDM engine swap:update
---
what year is the engine, im tryin to do the same swap only i have a 96 4th gen, not the same obd2 as yours but its still obd2, let us know how the wiring goes for you. great job and good luck with finishing up.
01-24-2009, 10:48 AM
Supreme Member

ROTM!>

Join Date: Aug 2007

Location: NY, Queens

Posts: 7,009
Re: 5spd swap and JDM engine swap:update
---
Wow that's a pain in the a$$. Looking good though. Good luck!
__________________

Bustr Built Performance
Are you a luder in the NY area? CLICK ME!
N.Y.P.O.C. FB----> Like us!
http://www.facebook.com/#!/pages/NYPOC/131187396961077
Currently Active Users Viewing This Thread: 1

(0 members and 1 guests)
Posting Rules

You may not post new threads

You may not post replies

You may not post attachments

You may not edit your posts

---

HTML code is Off

---
All times are GMT -4. The time now is
11:47 AM
.