| | |
| --- | --- |
| 4th Gen Rear Suspension Replacement & Camber Kit Install | |
Thread Title
4th Gen Rear Suspension Replacement & Camber Kit Install
06-16-2010, 10:28 AM
Bronze Member

Join Date: Feb 2010

Posts: 114
4th Gen Rear Suspension Replacement & Camber Kit Install
---
I'm not sure if anyone has posted a DIY for the entire rear suspension and camber kit install here. I did find a post on a camber kit install but it was from Honda Tech. I made my own to contribute to PZ. It's basically just a documented repair process from slapping a nasty curb. Hope someone finds this useful some day. I have the Word document saved on my computer if anyone wants it and the presentation is a little better on the eyes in Word format.
I think write up would certainly help with aftermarket suspension installs if they're just bolt on...
================================================== ========
1992-1996 Honda Prelude Rear Suspension Replacement/Adjustment
So you've decided to wreck your car. ..I've compiled the following photos and information to inform even the newest of newbies. If you aren't certain that you can perform the tasks listed herein, please consult a professional auto mechanic. Spend the money and get it done right. In my case, I couldn't afford a professional but, I am somewhat savvy with auto mechanics and felt that this was completely within my realm of things that I am capable of doing. I saved about $300.00 in the process.
I ended up taking an "S" turn a little too fast (between 60-70 mph ?) and completely losing control of my Prelude. I broke the rear wheels loose on the first section of the "S" turn. Coming up on the second section of the "S" turn, I lost traction to all four wheels. By the time the wheels caught traction again, I was already pointed in the direction of a 6"-8" curb. Beyond the curb was a 40 degree embankment with a 30 foot drop off. I came extremely close to rolling the car after seeing nothing but air for about 3 seconds.
I saw that someone "borrowed" a camber kit install thread from Honda Tech; so I decided to make one for the PZ home team that includes complete replacement of the rear suspension along with a camber kit install solely because this is what was absolutely necessary in my particular situation. I had no clue of the severity of damage imposed on my rear suspension.
I opted to replace the entire suspension with junkyard suspension. I needed my car back within two days and I needed results FAST. At $57.00 per side, which included Lower Control Arms (A & B), Upper Control Arms, Trailing Arms and Brackets, Shocks & Struts, complete Knuckle & Hub Assembly, and all applicable bushings/etc., it was a total STEAL and much easier to pull the entire suspension than to sit out in a hot junkyard all day popping ball joints and guessing at what could be bent on my prelude.
Instead, I went this route. I went to the junkyard at 10am, removed parts by 12:45. I got back to repair site by 1:45. Ate lunch at 2pm and resumed repair by 3:30pm. I had the replacement done by 5:30. So I was able to obtain the parts and have it drive-able in just one day. I had to order a camber kit because the sub frame or body is still bent and I needed a 3 degree camber kit. I had to install that kit on both sides so that the alignment shop could do their thing. The suspension replacement alone reduced the camber atleast 30 degrees maybe 40-45 degrees. After the initial alignment came back, they decided I needed a 3 degree kit because the camber simply isn't adjustable on my car.
Needless to say kids, keep the stupid-ness on the track and don't take "S" turns too fast with stock suspension! So now that I've told my tale; on to the documentary complete with carnage and repair photos.
TOOLS NEEDED
• 10mm – 19mm Wrenches & Sockets
• 3/8" & ½" Drives (Ratchets)
• Allen Key Set
• Jack
• Jack Stands
• Phillips Head Screwdriver
• Pickle Fork or Ball Joint Separator (if servicing only one component of suspension)
• Breaker Bar / Torque Bar (if necessary)
• Blanket (for comfort & dirt reduction if servicing in your driveway)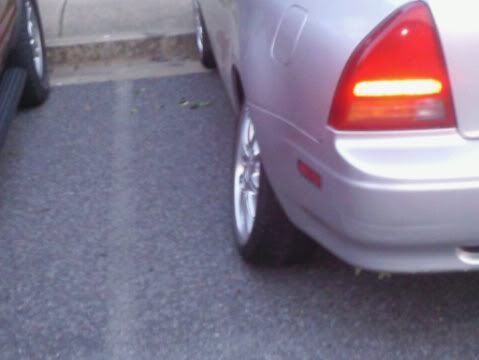 BEFORE / AFTER REPLACEMENT
Make sure you purchase new brake pads if you need them. This will be a good time to replace them. Also, if your car is messed up like mine was, you might want to invest in a camber kit. In my case, I replaced everything but the sub-frame and by the time I got to the alignment shop post-repair, I found out that my camber wasn't adjustable and I had to tear it down again to get the camber kit installed. I still had loads of positive camber even after replacing the entire suspension but, it was at least 70% better after replacement of the suspension (see before and after suspension replacement photos).
1) Okay, the very first thing you'll need to do is break your lug nuts loose on the rear tires before jacking up your prelude. Just break them loose enough so that you'll be able to get them off easily when the vehicle is air born and the emergency brake is engaged. If you don't engage the emergency brake, the wheels will just spin! (duhhh!) If you're using a manual transmission, make sure that you put the transmission in gear so that the car doesn't roll forward while servicing. You should (preferably) chalk the front wheels for added safety and to keep stress off of the transmission.
2) Now that your lug nuts are loose, go ahead and jack the rear end of the car up. I used the sub-frame right in the middle of the car as a good contact point for the jack. Once the wheels are off of the ground, use the pinch rails just in front of the tires under the body to place your jack stands. If you're going to replace the entire suspension like I did, be sure that the jack stands are not in the way of the trailing arms. (See pg. 836, section 18-33 of the factory service manual(FSM); available for download at PZ) If you are ONLY INSTALLING A CAMBER KIT, FOLLOW STEPS 1, 2, AND 7.
3) So now we're air born. What next? Now, you'll need to completely remove the wheels/tires and get to work on disassembling the brake calipers and brake caliper brackets. You'll need a 12mm and 14mm socket or wrench to complete this task. (See Pg. 863, Section 19-18 in the FSM) if you are going to recycle your rotors assuming there's no damage, you'll need to remove the rotor retaining screws (there's two of them) on the face of the rotor and remove the rotors from the hub/spindle assembly.
4) Once you have the calipers and rotors removed, we'll have to start removing the 12mm nuts that are holding the brake lines in place on the suspension (see Figure A-1). Once you've removed these nuts, just push the brake caliper to the side. I did this for the sake of simplicity. No need to remove or disassemble any brake lines and/or bleed the brakes after this project.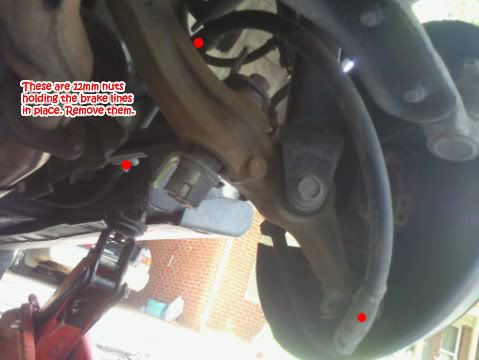 FIGURE A-1
5) Now that we have the brake system out of the way, we're going to start removing the suspension itself. It's time to remove the bolts to the trailing arm bracket (see figure a-2) and let's go ahead and remove that pesky bar that is attached to the stabilizer bar (see figure a-3). You only need to remove the side attached to the stabilizer bar, the other can stay attached to the hub/spindle assembly. You need to remove this bar now because if the lower control arms are detached at this point, you'll be turning the entire hub assembly and have nothing to counteract the force you're using to remove the nut from the ball joint. The ball joint will also continue to spin unless you insert an Allen Key into the ball joint thread (see figure a-4 and a-5).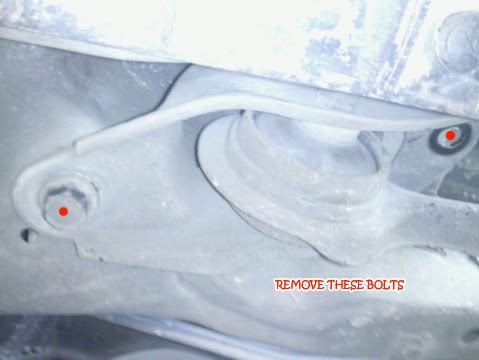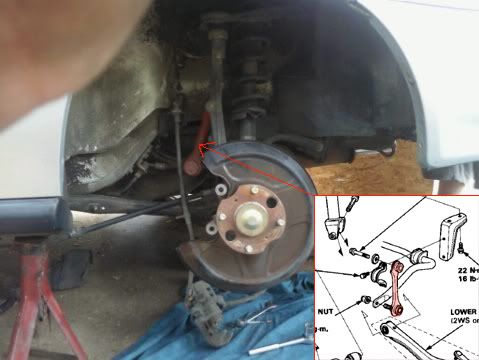 FIGURE A-2 / A-3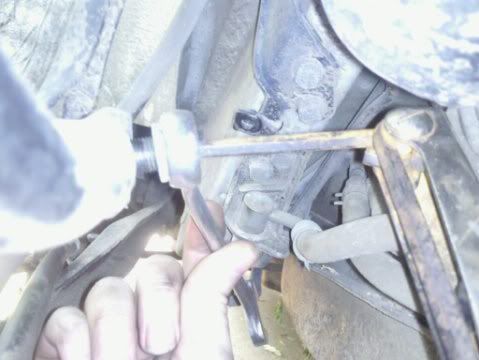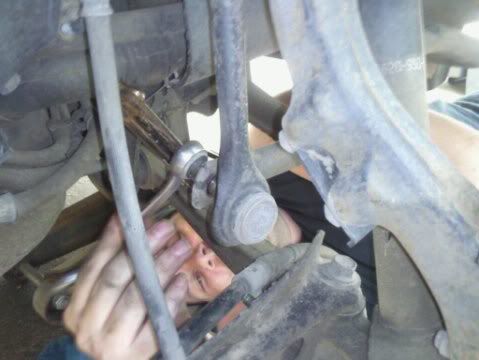 FIGURE A-4 / A-5
6) With that bar disconnected, we're going to remove the lower control arms from the sub frame. Remove the 17mm and 19mm bolts that are holding these on. Keep in mind that the lower control arm does have the adjustment for the TOE on the rear of this vehicle. There will be a small oval shaped washer on each side of the car. Don't lose these and make sure that you're paying attention to how they come out. See Figure A-6 and (See pg. 836, section 18-33(FSM). The lower arm on the right is PRONE TO BENDING. You'll observe that it's not as rigid as the arm on the left.
FIGURE A-6
7) With the lower arms removed from the sub frame side, you should have the entire suspension hanging only by the bushings of the upper control arm. See figure A-7. Now you'll need to dive into your trunk and remove the driver and passenger side trunk lining to gain access to your upper control arm and strut nuts. See figure A-8. NOTE: if you are ONLY installing a camber kit and did not smash a curb like I did, ONLY REMOVE THE UPPER CONTROL ARM BUSHING NUTS. With the car jacked up and the wheels removed, the upper control arm will pop right out of the body, lower down, and swing out for EASY EASY EASY replacement of the bushings to install a camber kit. If you are replacing the whole suspension because you want to be sure nothing is bent like I did, remove all four nuts and drop the suspension from the car. It will all come out as one unit. You should have something as seen in figure A-9.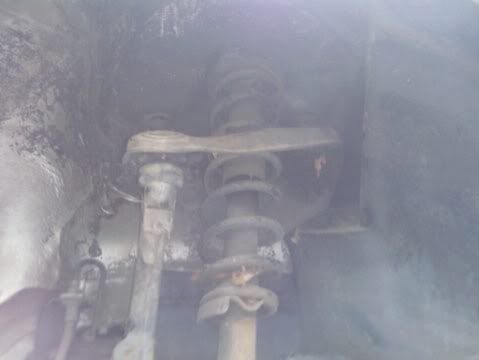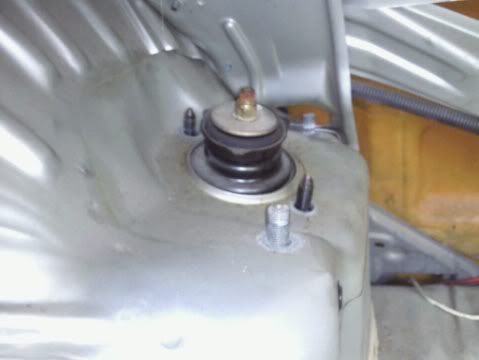 FIGURE A-7/A-8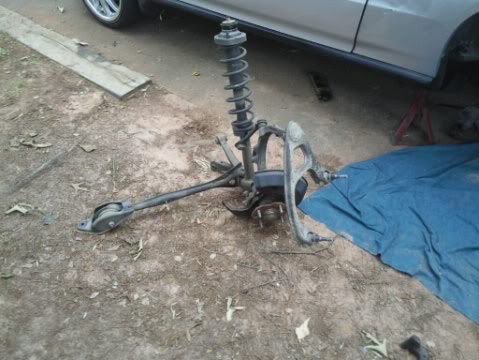 FIGURE A-9
8) Installation is reverse of removal. Drive (SLOOOOWLY) to the alignment shop, ask for a 4 wheel alignment and watch them shake their heads at how bad out of spec your alignment is. Have a cold refreshing drink and wait nervously for results.
Below you'll find a video and some more carnage pictures to justify why I took this route. Using this method to remedy a collision with a curb takes approximately an hour and a half per side. If you're doing just a camber kit, maybe 45 minutes to an hour per side. Keep in mind that I had an extra set of hands (my brother) helped me through this process. Now that I've done it with two people, I'm certainly confident enough to do it alone next time. You'll probably need a pair of hands to help you set the upper control arm into the body as you'll have gravity working against you. You just need someone to set the nuts on the bushings once you have them placed into the body.
I'll be revising this soon and maybe updating the pictures with a little photoshopping. I've been at this for about three hours between transferring pictures from my phone, to editing them and writing instructions. MORE TO COME.
--Timotee
---
Last edited by timotee; 06-16-2010 at

11:07 AM

.
06-26-2012, 03:48 AM
Mayor Bee

Join Date: Oct 2009

Location: TeXaS

Posts: 2,356
Re: 4th Gen Rear Suspension Replacement & Camber Kit Install
---
lol why is this not in the resource thread??? this is great work
__________________
1994 Prelude S GONE!!
F22a1 I/H/E
1994 Prelude S auto/manual swap The new daily(ish) driver.
1994 Prelude Si supercharged/h22a Parts car….
Currently Active Users Viewing This Thread: 1

(0 members and 1 guests)
Posting Rules

You may not post new threads

You may not post replies

You may not post attachments

You may not edit your posts

---

HTML code is Off

---
All times are GMT -4. The time now is
11:17 AM
.